We treat you, not your symptoms.
PRECISION MEDICINE
At Your Best Life, we practice Personalized Lifestyle Functional Medicine that puts you at the very center of the picture. Holding on to the important breakthroughs of the past, we use the functional systems biology model to help you navigate your future path to optimal health. Your choices matter.
YOU ARE NO LONGER SHOOTING IN THE DARK
The sequencing of the human genome literally changed the game in medicine. At Your Best Life we provide you with the latest state of the art testing indices including genetics and nutritional biochemistry to enable you to precisely target the habits you personally need to implement.
We Help You Create Health

Better Care Takes More Time

We Take Our Time and Respect Yours

You Matter. We Care.
Y

our

B

est

L

ife
(Lifestyle, Integrative, Functional Evaluation)
The research is clear — the trajectory of your specific diagnosis or current state of health is not etched in stone and inevitable. Your lifestyle, nutrition and individual genetic optimization will influence the expression of your unique DNA. This means that the culmination of your choices can make a dramatic difference in the outcome of your health. Determining what choices to make based on your individual genetic and biochemical makeup is the hard part. Once you know, it's simple. There isn't a complex formula or lifestyle, just an educated one.
The traditional approach waits until a disease manifests and then in many cases treats the symptoms of the disease with pharmaceutical medicine to make the symptoms bearable. In this context pharmaceutical medicine is powerful and tremendously important. However in many situations it does not address the underlying cause of the disease. The partnership of functional medicine with the traditional approach can be a powerful union. As patients get healthier and are able to correct underlying biological system issues they may able to taper pharmaceutical medications.
Your Best Life providers are trained to give you an in-depth lifestyle integrative functional medicine evaluation. By using state of the art genetics and nutritional assessment tools we can help you make specific tailored decisions regarding our unique status that will ultimately affect your heath and well-being.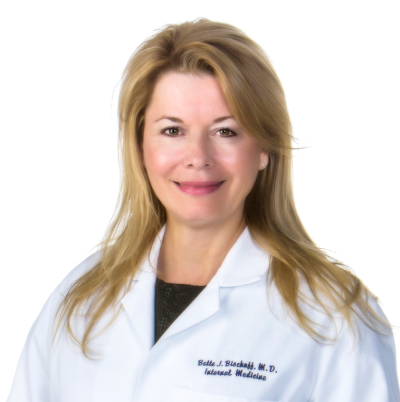 Dr. Bette Bischoff, MD, RD – Director of Medicine
Your Best Life
Dr Bischoff, MD, RD- Medical Director
P: 918.893.1440
Fax: 918.893.1481
Testimonials
Dr Bischoff,
Thank you for putting you wisdom, your considerable intellect and your heart into the care you gave me…. You take the art and science of medicine to new higher levels beyond medication to wholeness and well-being. We waited a long time to find a physician who is able to integrate many disciplines. You are the doctor of the future and we are honored to have been your patients. Thank you for giving us your skills so that we have the most precious gift of all- more time on this earth to do the work God has given us to accomplish.   MB

Dr Bischoff,
Thank you for all of your help getting me fully back on my feet. Thanks for all of your help believing in me…You are definitely the "house" of modern day medicine. I wish I could nominate you for doctor of the century because you really deserve recognition for you can-do don't' give up attitude; along with your compassionate care…you have made a world of difference. SM